To be a graduate student is to be a researcher that is still being trained. The PhD, formally licensed to do research, finds himself at the border of knowledge of a specific subject. However, this border is not rigid and researchers and graduate students from all over the world are working on furthering it. So you have to keep up to date (after all, "we are standing in the shoulders of giants") until you can make your very own contribution. The goal of this text is to provide you with tools that have been useful to me in this process (that I have barely started) of research training. Please note that this is my experience and that I have been pleased with it, but it is neither valid for all knowledge areas nor to everybody (I can't even affirm it will be valid to me in the following years). It's worth noting because, after all, this is the internet.

First, to find new articles, I use alerts and feed aggregators. To uncover a new knowledge area demands a deep dive into that area's literature, searching in indexing databases and choosing strategies regarding publishing date and number of citations that I won't mention here. My idea is to present tools that will exclusively bring new content, recently published, to your email inbox or smartphone. Several indexing databases have alerts, but the ones I use are from
Google Scholar. I set the keywords and, twice or three times a week, I receive emails with everything new (up to 20 results) that has been indexed by Scholar to those keywords. I have to admit that I must filter a lot of results, because most of them are far from being interesting, but I am quite comfortable on knowing that I am probably aware of anything new and important. I am not very sure as for following this approach when doing your Master's. Depending on your area, there may be quite a lot new information and, since you are still not fully prepared to filter them, this may be overwhelming and may take your focus from your global training.

Another approach I use is to follow the feeds of some journals. Journals that are important in my area or journals in which I intend to publish were added to the feed aggregator I use (nowadays it's Feedly, but I'll miss you forever, Google Reader) and this way, every article that is published in those journals appears to me as news from a newspaper. This doesn't eliminate journals' paywalls (hey, have you ever heard of Unpaywall?), so I save the papers that seem to be interesting to read later, in my university's network. The greatest advantage of following a journal is probably to be aware of which articles the journal has been publishing (its scope) and if there are chances for my (future) papers to be published there or if what they publish doesn't have much to do with my line of work.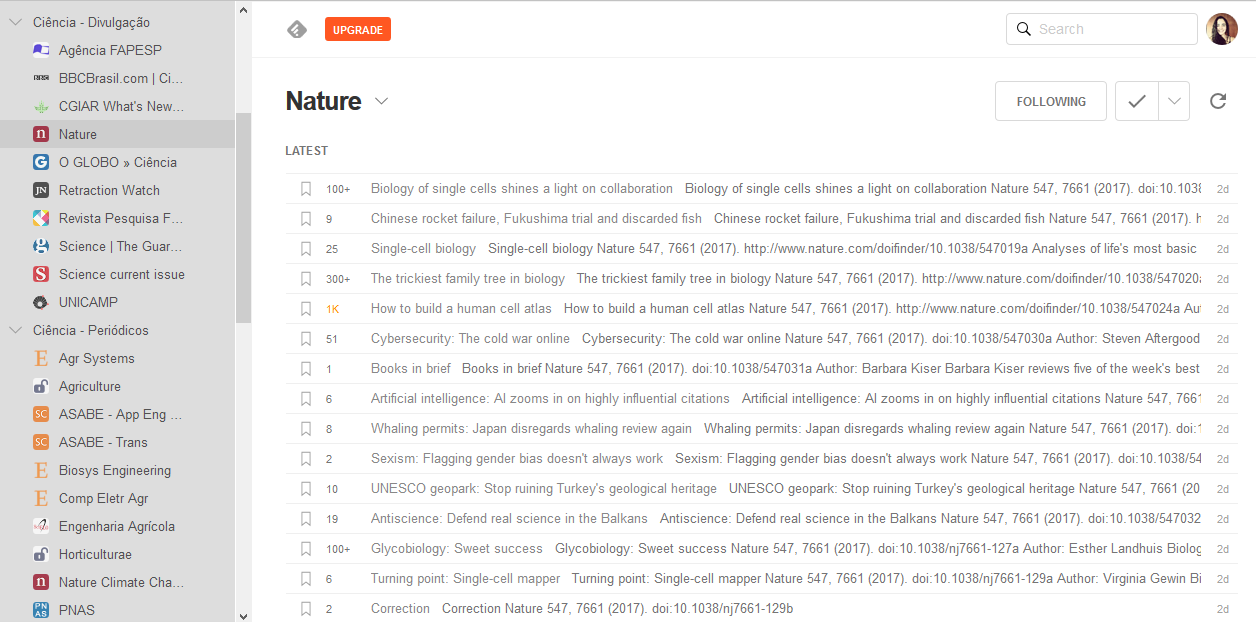 All these papers I discover are then organized in my reference manager. Here I will help and complicate, because I use two of them: Mendeley and Docear. Mendeley attracts me because it's so easy to integrate with MS Word. Recently, it's also become attractive for its articles recommendations, that have helped me on finding older papers. In general, my most frequent use is to insert citations and to easily change the reference style, beyond organizing my literature and fixing metadata. I use Docear to organize my ideas after reading. Even though it also has a plugin for using MS Word, the mind maps are why I use it. Since its interface is less attractive than Mendeley's, I suggest you use it only if you have enough time to read the instructions. By the way, there are several reference manager software, each with specific characteristics. Which one you are going to use is up to you, but choose one and use it. Your time is way too valuable to waste it typing all the information in a bibliography list.
After organizing your literature and your ideas, just jump into writing. Regarding writing I have less experience and can only suggest the courses by Dr Volpato (in Portuguese) and of Dr Sainani. Also about writing there is the excellent Writing for Research.
One last tip: have a backup. If possible, have one in the cloud and one in an external hard drive. Wasting hours of your work is not a risk worth taking. In a follow-up text (will there be one?) I intend on commenting the tools of post publishing that I have seen lately. See you there. :)